From 1 November, employers with at least 10 employees must inform the Ministry of Manpower (MOM) of all retrenchments regardless of the number of employees affected.
Employers have to file the mandatory retrenchment notification within five working days after they give notice of retrenchment to the affected employee(s).
"This will allow the tripartite partners and relevant agencies to provide timely support and assistance to workers who are retrenched," MOM said.
Source: https://www.linkedin.com/posts/tan-see-leng-105047216_measures-to-facilitate-retention-hiring-activity-6832160040007344128-onDm
By: Mr. Tan See Leng, Minister for Manpower and Second Minister for Trade and Industry
The Construction, Marine Shipyard and Process (CMP) sectors are key drivers of Singapore's economy. Over the years, Government agencies have been working closely with these sectors to transform business, reduce manpower reliance and build up resilience. However, these efforts take time.
In the immediate term, our CMP sectors continue to face significant manpower shortages as a result of tighter border restrictions due to COVID-19. To help these sectors preserve their core capabilities and emerge stronger from COVID-19, the Government has introduced a package of measures to help them retain and hire their Work Permit Holders. More information about the package can be found here: go.gov.sg/cmpmeasures
To prevent future disruptions to business operations in the longer term, I strongly urge all CMP firms to start on their transformation journeys today. Companies can also tap on technology to reduce manpower reliance, and redesign jobs to attract more locals. The Government will continue to support firms' transformation efforts through programmes such as the Job Redesign initiative under the Productivity Solutions Grant, and the Job Redesign Reskilling Programme.
Yesterday, Mr Ng Yek Meng, President of The Singapore Contractors Association Ltd (SCAL), and I visited Straits Construction Singapore Pte Ltd to learn how the company has successfully tapped on technology to transform their business and improve processes. I met with Anton, their Project Director, who shared with me how adopting technology such as virtual reality and Building Information Modelling (BIM) has allowed the company to avoid costly abortive work and increased strain to their manpower resources. I am encouraged by Straits Construction's efforts to embark on business transformation despite the challenging times we are in, and hope more will follow in their footsteps. Let us continue work together to ensure our CMP sectors remain competitive in future.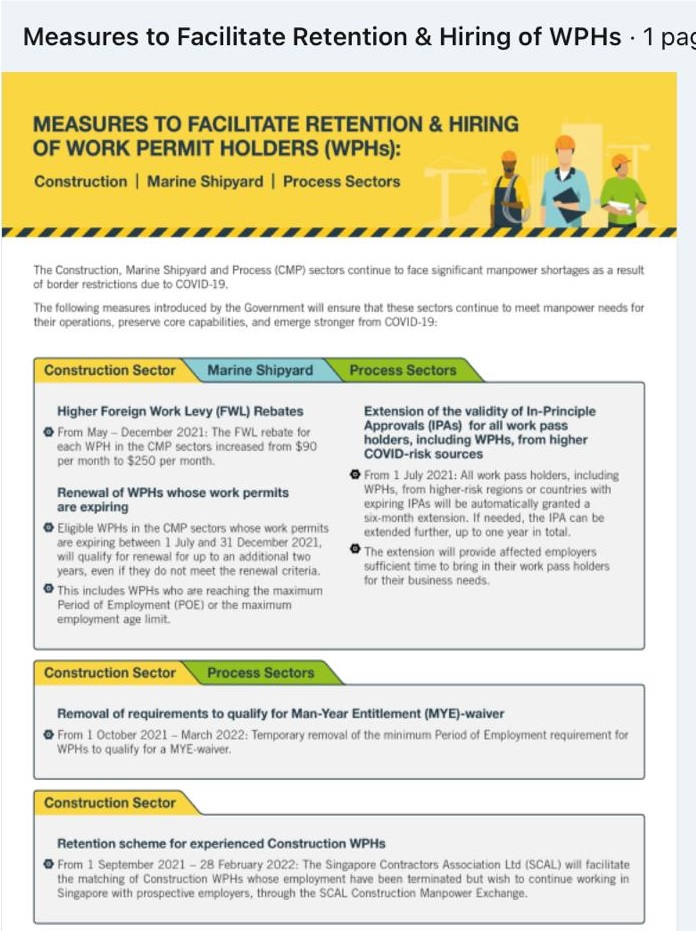 Employers affected by Singapore's Phase Two (HA) to get fresh support package, including JSS, 22 July onwards: MOF
For employers, they will receive either 60% or 40% JSS support, depending on the extent to which they were affected, rental relief, and more. For workers, they are entitled to COVID-19 Recovery Grant-Temporary (CRG-T). To help workers and businesses cope with the latest restrictions from Phase Two (HA), Singapore's Ministry of Finance (MOF) is providing a fresh S$1.1bn support package that will last until 31 August 2021.
This package mainly includes the following:
• Enhanced Jobs Support Scheme (JSS) for affected sectors;
• Rental relief for commercial properties;
• COVID-19 Recovery Grant-Temporary (CRG-T), and
• Market and hawker centre relief fund
"In putting together this support package, the government has taken into account the feedback from workers and businesses, and engaged business and trade association leaders to understand their concerns," shared the Ministry. Scroll below to find the specific details about each initiative.
#1 Enhanced Jobs Support Scheme (JSS) for affected sectors.
Sectors affected by Phase Two (HA) will receive two more rounds of JSS pay-outs. From 22 July to 18 August 2021, the following sectors (which MOF labelled as closed sectors or sectors with tightened safe management measures) will receive 60% of JSS support:
• Food and beverage (F&B);
• Gyms and fitness studios; and
• Performing arts and arts education
Within the same period, another group of sectors (which MOF labelled as significantly affected sectors) will receive 40%. They are:
• Retail;
• Cinemas;
• Museums (such as art galleries and historical sites);
• Family entertainment;
• Personal care services; and
• Tourism
From 19 August to 31 August 2021, all aforementioned sectors will receive 10%.
#2 Additional rental relief for commercial properties
Next, with regard to rental relief, MOF said, the government will provide:
• An additional four-week rental waiver for qualifying tenants on government-owned commercial properties.
• An additional two-week rental relief cash payout for qualifying tenant-occupiers and owner-occupiers of privately-owned commercial properties under the Rental Support Scheme (RSS).
"Small and medium enterprises and eligible non-profit organisations with an annual revenue not exceeding S$100mn, who are tenant-occupiers or owner-occupiers of qualifying commercial properties, will be eligible for rental relief," the Ministry shared. MOF said that more details on RSS will be made available on the Inland Revenue Authority Singapore's (IRAS) website in due course. #3 Extended COVID-19 Recovery Grant-Temporary (CRG-T) for affected workers.
The government has also extended the CRG-T until 31 August 2021, according to MOF. Likewise, the CRG-T will provide a payout:
• Of up to S$700 for those who were placed on involuntary no-pay leave, and
• Of up to S$500 for those who lost at least 50% of their income for at least one month due to tightened safe management measures (since 16 May 2021). "Existing CRG-T recipients who continue to require assistance can apply for a second CRG-T support payout," the Ministry of Finance shared.
#4 New market and hawker centre relief fund
Additionally, the Ministry shared that the government will support hawkers and market stallholders whose livelihoods have been adversely affected by both Phase Two and Three (HA). To do so, the government will introduce a new Market and Hawker Centre Relief Fund. Through this initiative.
• All individual stallholders of cooked food and market stalls in centres managed by the National Environment Agency (NEA) or NEA-appointed operators will receive a one-off cash assistance of S$500 per stallholder. This is an additional support after the previously announced additional one month of subsidies for fees for table-cleaning and centralised dishwashing services, and one month of rental waivers for stallholders in hawker centres and markets managed by NEA or NEA-appointed operators.
Other initiatives include:
Food delivery booster package. Another initiative announced to support the F&B sector is Enterprise Singapore (ESG)'s food delivery booster package to "defray part of food delivery costs via food delivery platforms and third-party logistics partners for transactions made" Through this package, ESG will:
• Fund five percentage points of the commission cost charged; and
• Fund 20% of the delivery costs for food delivery orders through third-party logistics partners.
This package will last from 22 July to 18 August 2021, according to MOF.
E-commerce booster package
In a similar vein, ESG will also provide grant support for local retailers to have their businesses in local e-commerce platforms (such as Lazada, Mummy's Market, Qoo10, Shopee, and Zalora) through the E-commerce booster package.
Through this package, retailers will receive:
• A one-time 80% support on qualifying costs for the service fees charged by the platforms, capped at S$8,000.
The E-commerce booster package will last until 16 November 2021. COVID-19 driver relief fund (CDRF) for taxi and private hire car drivers
Further, the government has extended the CDRF from 22 July to end-September 2021. Under this latest enhancement, eligible drivers will receive:
• An additional S$10 per vehicle per day from 22 July to 31 August 2021;
• An additional S$5 per vehicle per day in September 2021.
The MOF noted that the entire support package will be "funded by reallocation arising from one-off underutilisation due to COVID-19, and fiscal resources set aside earlier in the event of extension of support measures."
Benefits of Job Re-design:
Create an agile workforce, improve productivity and reduce operating cost, reduce manpower requirements, improve employee experience and enhance guest experience
We are a phone call away to cater to your specific needs and challenges. Please reach out to 94362988 (watsapp) or 94359199 (watsapp) or email to enquiry@hccs.sg; hrsupport@hccs.sg
https://www.straitstimes.com/singapore/jobs/reserving-some-jobs-for-singapore-pmes-among-measures-being-considered-ntucs-ng-chee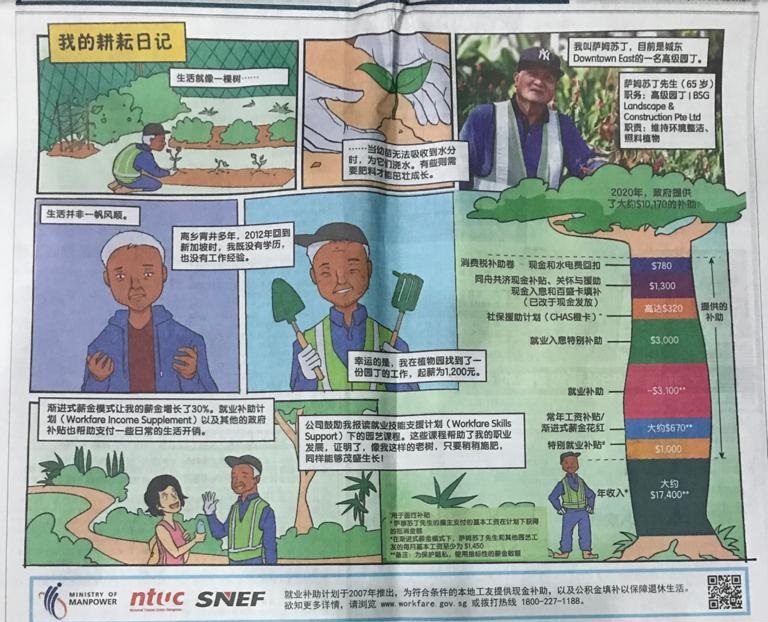 Fatigue can affect our ability to make good decisions at work. Here are some ideas that employers can adopt to build an environment that encourages rest and recovery for workers.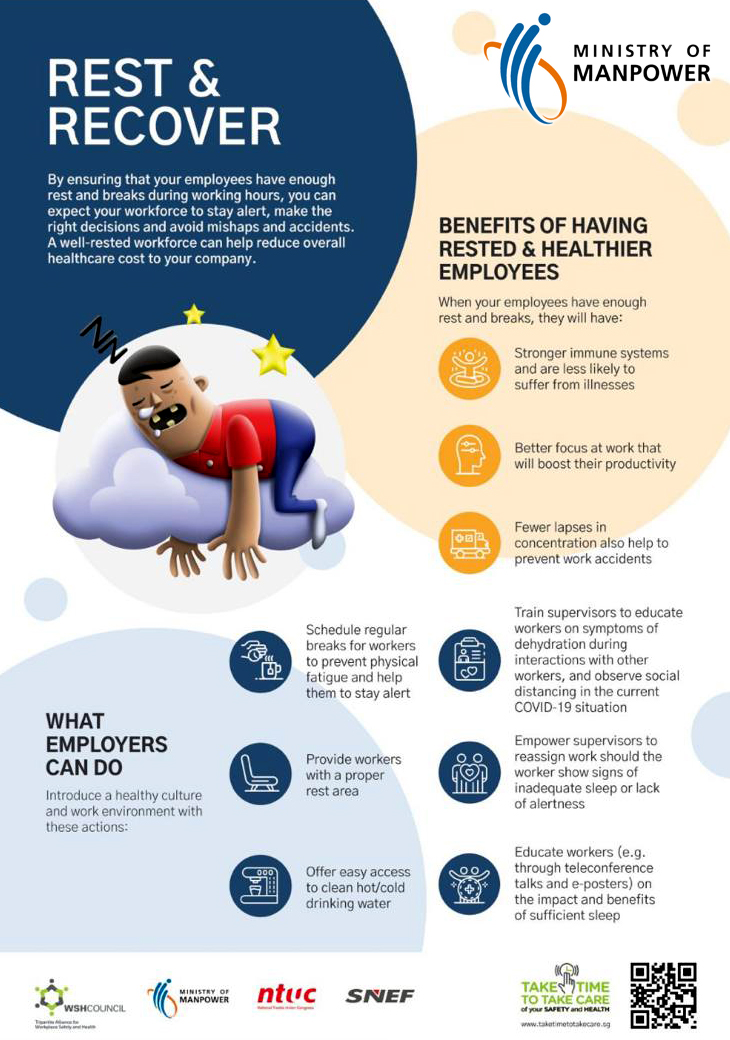 Straits Times 18 Feb 2021